The Arboretum App
A next generation UI design that redefines the way park attendees interact with nature.
Objective
The Washington Park Arboretum in Seattle desperately needed an app which would transform their current database of plant information into a platform for helping visitors navigate the many trails, gardens, and plant varieties while promoting a sense of exploration and discovery.
Context
What I Did
Onboarding

Prototyping

Idea formation
Overwhelming information, no navigation
Pictured here is an interactive web application previously made for the Arboretum. Each green dot represents a plant in the park. There are thousands of plants, so it is overwhelming to navigate the map or find anything. The application offers little filtering functionality and when a dot is clicked on, it fails to format the information in a logical manner.
A minimal map-focused experience that encourages exploration
The final application design centers on the map experience, helping visitors feel confident while they walk through the 230 acres of park. Rather than filling the map with icons for every plant, the map shows just what's most interesting. The app was designed to be distraction free, allowing users to focus on the nature around them. For the eager learner or enthusiast, more information is just a tap away. The onboarding (shown here) acclimates the user to the app's core features.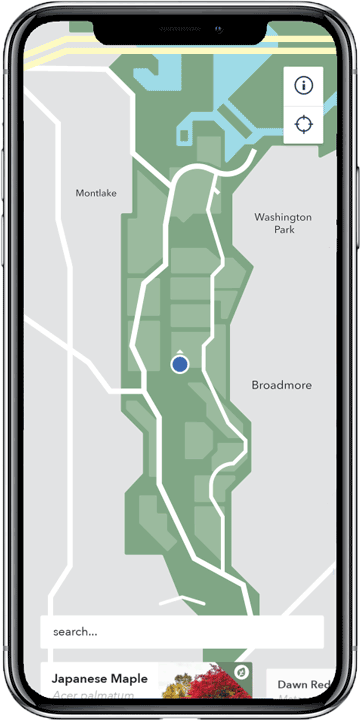 The largest pain point we identified in our research is finding your way through the arboretum. The second was finding information about the things around you. Both of these can be solved by the map, so we made it the core feature. No screen ever fully covers the map, ensuring that you'll never feel lost.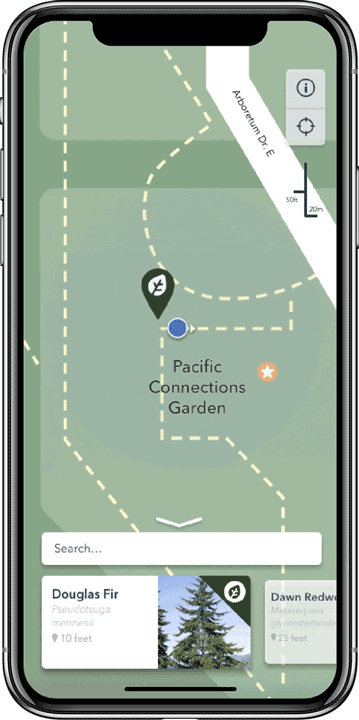 To encourage exploration, only items that are nearby are displayed. The cards at the bottom change dynamically as you move around the park, showing what the user might be most interested in. Featured plants are always displayed and your favorite tree is just a search away.
If you like what you saw, please get in touch!